Letters of Commendation
We are honored to receive Letters of Appreciation/Testimonials from esteemed organisations including The Supreme Court of Singapore, Resorts World at Sentosa, Singapore Hotel Association, City of Perth, Far East Organization, McDonald's Restaurants, Andaz Hotel, National Parks Board, Workplace Safety & Health Council, HDB, Intercontinental Hotel, Mandarin Oriental Singapore, PSA Corporation Ltd, Singtel, SP Global Solutions, KFC, Pizza Hut, Delifrance, The Coffee Bean & Tea Leaf, Beyonics Technology, Nippon Express, Singapore Cruise Centre, Nestle R&D, Mövenpick Hotels & Resorts, Aviva, Kruger, Tyco Fire & Security, Translink, Sentosa Luge, Westin Hotels & Resorts, UMW, NCS, Grand Mercure Roxy Singapore, Johnson & Johnson, Copthorne Orchid Hotel, Ibis Hotel & Burger King.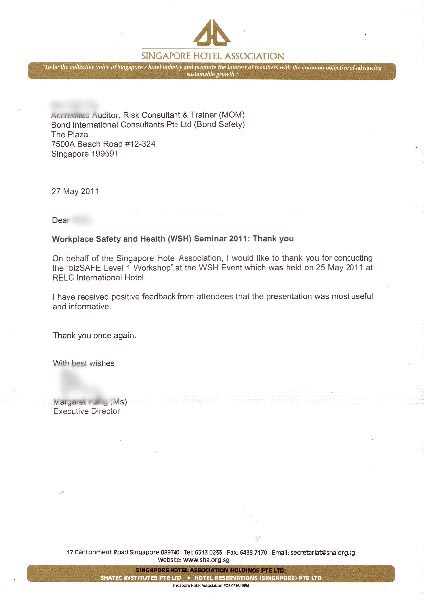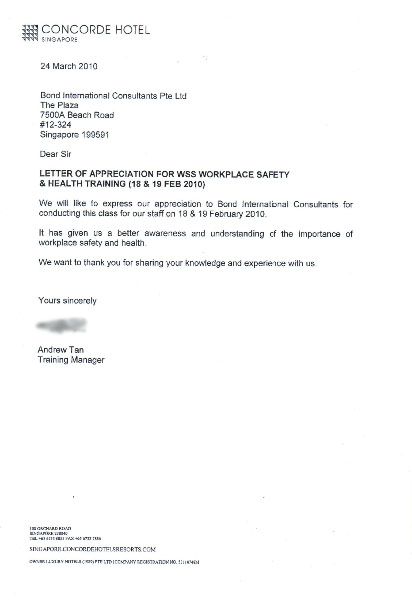 "Great delivery and very engaging."

Zarina Binte M R

Assistant Commander, Immigration & Checkpoints Authority (ICA)
"Very interesting and personable."

S Narayanan

SVP (Corporate Real Estate), DBS Bank Ltd
"Fun and able to manage the class well."

Mohammed Nizam Bin A R

Assistant Director (Engineering), Capella Hotel, Singapore
"Engaging and the use of relevant videos for illustration"

Tan S D

Senior Assistant Director, Family Justice Court
"Patience and good grasp of student's needs. Programmes are well-structured and easy to understand. Video is good!"

Lim K B

Head of Operations, Pizza Hut Singapore Pte Ltd
"Very well prepared and knowledgeable trainer"

Chia K K

Deputy Director (Security), Supreme Court of Singapore
"Good execution even though it's first time conducting such class virtually. Appreciate the information which are timely and relevant, like covid-19. Nice to have sharing of real-life experiences which gave us clearer picture of the issues."

Pedon K T

Restaurant General Manager, (McDonald's) Hanbaobao Pte Ltd
"Good, very engaging"

Kee M H

Commanding Officer, Externa Ops, Singapore Prison Service
"Knowledgeable & clear, well-structured course"

Chua Y C

Deputy Director, Monetary Authority of Singapore
"Excellent trainer who actively engages participants"

Sim C Y

Assistant Director, Prime Minister's Office – Strategy Group
"Bring lesson to life, interactive"

Lee C H

Assistant Director, Singapore Civil Defence Force
"Very experienced and provide useful information on the subject"

Adam Bin H H

Deputy Director, Ministry of Culture, Community & Youth
"Very knowledgeable. Able to keep participants attention and engaged well"

Leo B H

Director (HR & Admin Division), St Luke's Hospital
"Very interesting delivery of knowledge"

Chia W L

Director of Human Resources, Carlton City Hotel (Singapore) Pte. Ltd.
"Very informative, speaks clearly, able to use different scenarios to relate to the course."

Ng C C

Engineering Operations Director, Grand Hyatt Singapore
"Good treasure trove of stories, videos and very practicable."

E Chong

Executive Director, DBS Bank Ltd
"Very knowledgeable and clarity in presentation"

Poh K J

Assistant Vice President, DBS Bank Ltd
"The trainer supplements us with interesting videos"

C Tan

SVP, DBS Bank Ltd
"Competent, professional, knowledgeable"

Yang J S

Assistant Director (Office of Public Affairs), Supreme Court of Singapore
"Experienced and effective trainer. Clear explanation. Very knowledgeable"

Wong K P

Director (Corporate Services), Immigration & Checkpoints Authority (ICA)
"Trainer is very professional, speaks clear and well. She answered all our questions and gave relevant examples.
Very up to date information."

Chew W L

ACMV Engineer. Hitachi Plant Services
"Instructor is a confident speaker who is au fait with the subject matters.
Her usage of examples were apposite and helped me gained a better understanding of the subject matter."

Ong P T

Director (Operations), Central Narcotics Bureau
"Trainer is very experienced and well versed, even though it was an online course teaching were clear and delivered well.
Overall, it was a great experience as this is my first time having online courses, will definitely attend upcoming courses available."

Nur Iyliani

Supervisor Service Ambassador and Transport. Sentosa Development Corporation
"Instructor is very knowledgeable and have lots of scenario to share in class"

M Soh

Technical Support Manager, NEC Asia Pacific Pte Ltd
"Very clear delivery of subject matter throughout and good time management"

T Tan

Marketing and Customer Experience Partner, Igloohome Pte Ltd
"Well-versed with strong knowledge of safety requirements, good use of examples"

C Goh


Executive, HR Business Partner, Mount Faber Leisure Group
"Instructor is a very excellent instructor. She is patient in answering my questions and very experienced."

V Chua

Division Head (Architecture & Infrastructure, Technology Group), GIC Pte Ltd
"Instructor is a very excellent instructor. She is patient in answering my questions and very experienced."

V Chua

Division Head (Architecture & Infrastructure, Technology Group), GIC Pte Ltd