Overview
Written by Roy Yeo & Faith Tay, our Senior Consultants & Trainers.  Since the first edition published in 2007, THE ZERO SUCCESS, 7 Surefire Steps to effective workplace summaries their experience on different aspects of Workplace Safety especially about the Workplace Safety & Health Act (WSHA) and its legislation which includes Risk Management.
As one of the first few safety book written in Singapore, the book has also received various excellent review by other medias such as:
"The book succinctly lays out how companies, from those in the service industry to heavy industry, can and must gear up to improve their work safety records"
– The Straits Times, 1st Apr 07
"It also contains very insightful and notable contributions from over 40 top CEOs and leaders in Singapore on workplace safety."
– 938LIVE, 5th Apr 07
"It provides the "what", "when", "how", and "whom" and delivers the key essentials in layman's terms for readers who find it difficult to understand the legislation."
– Singapore Institution of Safety Officers Magazine July 07
In corporate world, success is usually measured in numbers – the bigger the better, Higher profits, greater rate of returns, bigger sales. However, in terms of safety, the measurement of success is the exact opposite – where zero is the ultimate achievement. Zero Fatalities, Zero Injuries, Zero Accidents.
Bond Consultants believe that all accident can be prevented. We hope by sharing our knowledge via this Safety Book, we can contribute to create a safer and healthier workplace and we can all walk together to achieve this Zero Success.
The book has been reviewed and updated continuously to reflect the changes in the regulations and safety standards in Singapore. It has also received contribution and inputs from various CEO / Top Management all over Singapore.
1st Edition
2nd Edition
3rd Edition
4th Edition
5th Edition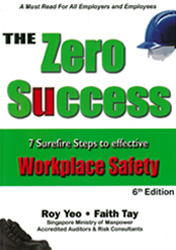 6th Edition